Stainless Steel Round Bar - Dowel Bar
Stainless UK supplies plain round bar in stock lengths or cut to length in strength grades 250, 500 and 650.
Dowel bars are used in construction to create a debonded dowelled joint, reinforcing the connection between two or more concrete slabs to improve strength and force transfer.
The excellent corrosion resistance of stainless steel dowel bars eliminates the risk of structural damage.
When compared with the costs associated with the use of carbon steel, stainless steel can reduce total lifetime costs significantly. Dowel bars are normally made from plain round stainless steel. They are cast or drilled into concrete and are used to transfer loads across joints in concrete. In applications where movement is expected, the dowel bar is cast in one side and de-bonded in the other side of the joint.
Stainless UK are CARES approved for processing stainless steel bars for reinforcement and hold large stocks of stainless steel dowel bar.
The three grades of dowel bar held in stock are:
Grade 304 (1.4301) suitable for most atmospheric and concrete covered environments.
Grade 316 (1.4401) suitable for marine and corrosive environments.
Duplex F51 (1.4462) suitable for marine and corrosive environments.
The strength physical characteristics for 304 and 316 stainless steel dowel bar are Proof Strength - 250 N/mm², Ultimate Tensile Strength - 550 N/mm²
High Tensile Proof strength 500 N/mm² Ultimate strength
The strength physical characteristics for Duplex F51 dowel bar are Proof Strength - 450 N/mm², Ultimate Tensile Strength - 620 N/mm²
Standard stainless steel dowel bar diameters range from 6mm to 50mm.
Stock lengths are up to 6m and bars can be supplied cut to any length.
Threaded ends with ISO metric threads to BS 3643 can be supplied for fixing applications.
A full range of accessory products are available including square backing plates, nuts, washers, tying wire, end caps and de-bonding sleeves.
GRADES OF DOWEL BAR READILY AVAILABLE

Key:

Appropriate choice for corrosion resistance and cost
Over specificiation of corrosion resistance for the application
May be suitable in some instances specialist advice should be obtained
Grades suitable for specialist applications which should only be specified after consultation with corrosion specilaists
Unsuitable for application

Grades in accordance with BS EN 10088-1
Readily Available Dowel Bar Grades
For structures or components with either a long design life, or which are inaccessible for future maintenance
For structures or components exposed to chlorice contamination with no relaxation in durability design [e.g. concrete cover or water proofing treatment requirements]
Reinforcement bridging joints, or penetrating the concrete surface and also subject to chloride contamination [e.g. dowel bars or holding down bolts]
Strucures object to chloride contamination where reductions in normal durabilty requirements are proposed [e.g. reduced cover, concrete quality or omission of water proofing treatment]
1.4301 [304]
x
1
1
5
3
1.4307 [304L]
x
1
1
5
3
1.4401 [316]
x
2
2
1
1
1.4404 [316L]
x
2
2
1
1
1.4462 F51
x
2
2
1
1
1.4501 F55
x
4
4
4
4
SIZES AND STRENGTHS
Dowel bar is generally supplied with a 0.2% proof of 250 N/mm² and a UTS of 500 N/mm². Higher proof strength of 500 N/mm²and 650 N/mm²are available.
Ref
Kg/m

Dowel bars Specification

DB 5
0.154

Dowel bars are usually 16 to 50mm in diameter, Dowel bars can be supplied in strength grades 250, 500 and 650 as specified in BS 6744:2016. This European standard specifies the requirements and test methods for solid stainless steel bars used for reinforcing concrete.

DB 6
0.222
DB 8
0.395
DB 10
0.617
DB 12
0.888
DB 16
1.578
DB 20
2.466
DB 25
3.853
DB 32
6.313
DB 40
9.865
DB 50
15.41
EXPANSION DOWEL CAP
Rigid PVC caps with compressable filter to allow expansion.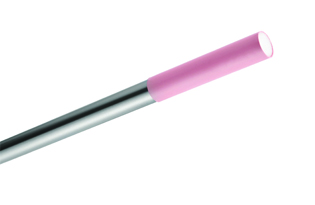 DOWEL BAR SLEEVES
Debonding sleeves for use in dowelled movement joints.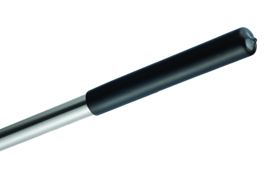 SAFETY END CAPS
Plastic protection caps for exposed bar ends.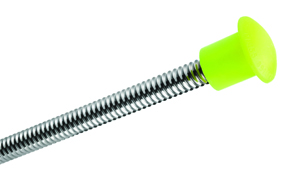 DOUBLE LOOP TIES
Stainless steel double loop ties and wire binder tool.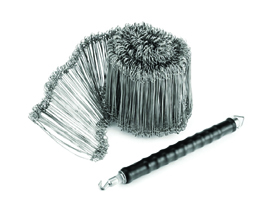 MESH
Mesh is manufactured with tolerances within BS8666. Material is within BS6744. Please see Welded Mesh Data Sheet for full range.