Injection Anchor
Stainless Injection Anchor, hollow bar, self drilling system has been developed to service the geotechnical and civil engineering sector, providing the optimum combination of strength, bond, and corrosion resistance suitable for complex and weak geological conditions. Stainless hollow bar drill system can be installed into loose or collapsing soils without the need for casing.
Injection Anchors are particularly used for loose unstable ground and structures.
BENEFITS
Fits standard drilling machines
Self cleaning thread
High strength thread rolled
Superior corrosion resistance
Restricted access applications
Fast single operation installation
Long life structures
APPLICATIONS
Embankment stabilisation
Coastal defence walls, slopes and slabs
Marine and aggressive environments
Mining and tunnelling
Rock bolts
Retaining walls
Structures in seismic areas
TECHNICAL INFORMATION
Grades Available
316 stainless
Minimum elogation
20%
Typical lengths
3m-3.2m (6m-6.5m to order)
Straightness
2 in 1000
Standard bundle weight
1 tonne max
Thread (left hand)
ISO 10208
| | | | |
| --- | --- | --- | --- |
| BAR SIZE | R25 | R32 | R38 |
| Nominal Dia over threads (mm) | 24.71 | 31.34 | 37.99 |
| Nominal internal dia (mm) | 13 | 15 | 24 |
| Effective CSA (mm²) | 307 | 472 | 586 |
| Ultimate strength min (kN) | 200 | 320 | 400 |
| Yeild strength min (kN) | 150 | 220 | 280 |
| Nominal weight (kg/m) | 2.45 | 4.1 | 4.75 |
| Coupler dia x length (mm) | 36 x 140 | 44 x 150 | 51 x 160 |
| Load Nut a/f x length (mm) | 40 x 60 | 50 x 70 | 60 x 80 |
SITE PERFORMANCE
Injection anchors are produced using a cold rolled thread which not only enhances the strength of the bar, but also provides a self cleaning, robust thread which is easy to use on construction sites. The ISO standard rope thread, which is continuous along the length of the bar, permits site cutting of the bar without the need for special tools or dressing procedures, whilst also fitting the majority of rock drilling machines.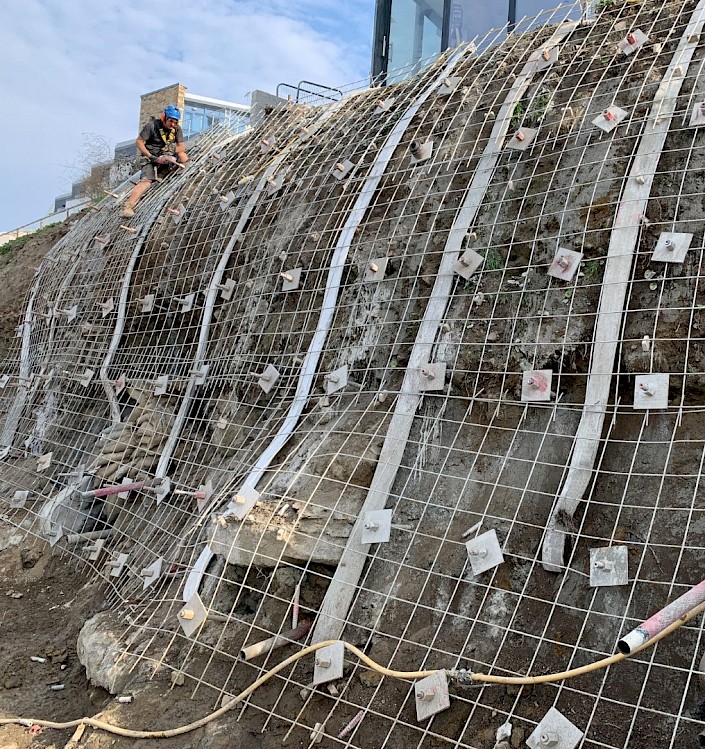 BOND
The bond of the injection anchor is in accordance with BS 8110 and BS 6744, the continuous thread provides a key for the grout.
System Accessories
Stainless steel injection anchors can be supplied with a range of accessories, which can be manufactured to meet individual contract requirements.
The selection of any drill bit is based on experience, but a trial anchor must be satisfactorily tested before the project is finally commenced.
SACRIFICIAL DRILL BITS
Drill bits to suit all applications and ground conditions.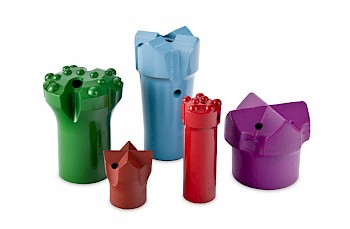 PLATE WASHERS
Manufactured either flat which can take up to 8 degree misalignments or dished to suit up to 45 degree misalignment. Can be supplied with a hemi nut or washer to suit.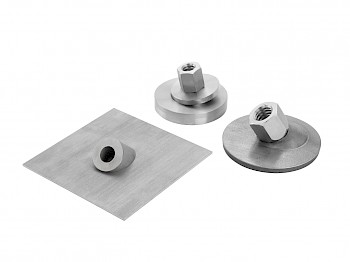 REDUCER WASHER
Allows a small diameter bar to be used with a larger pattress or washer plate.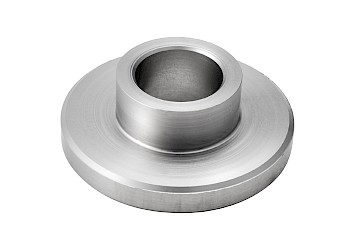 COUPLERS / NUTS
Load nuts and couplers have been designed to provide a strength of anchorage equal to the theoretical minimum required by the threaded bar. Lock nuts are for locking purpose only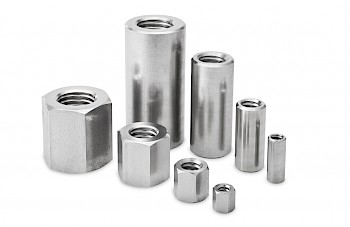 EYE NUT
To be fitted to the end of the bar for passing rock netting wire through and many other uses.